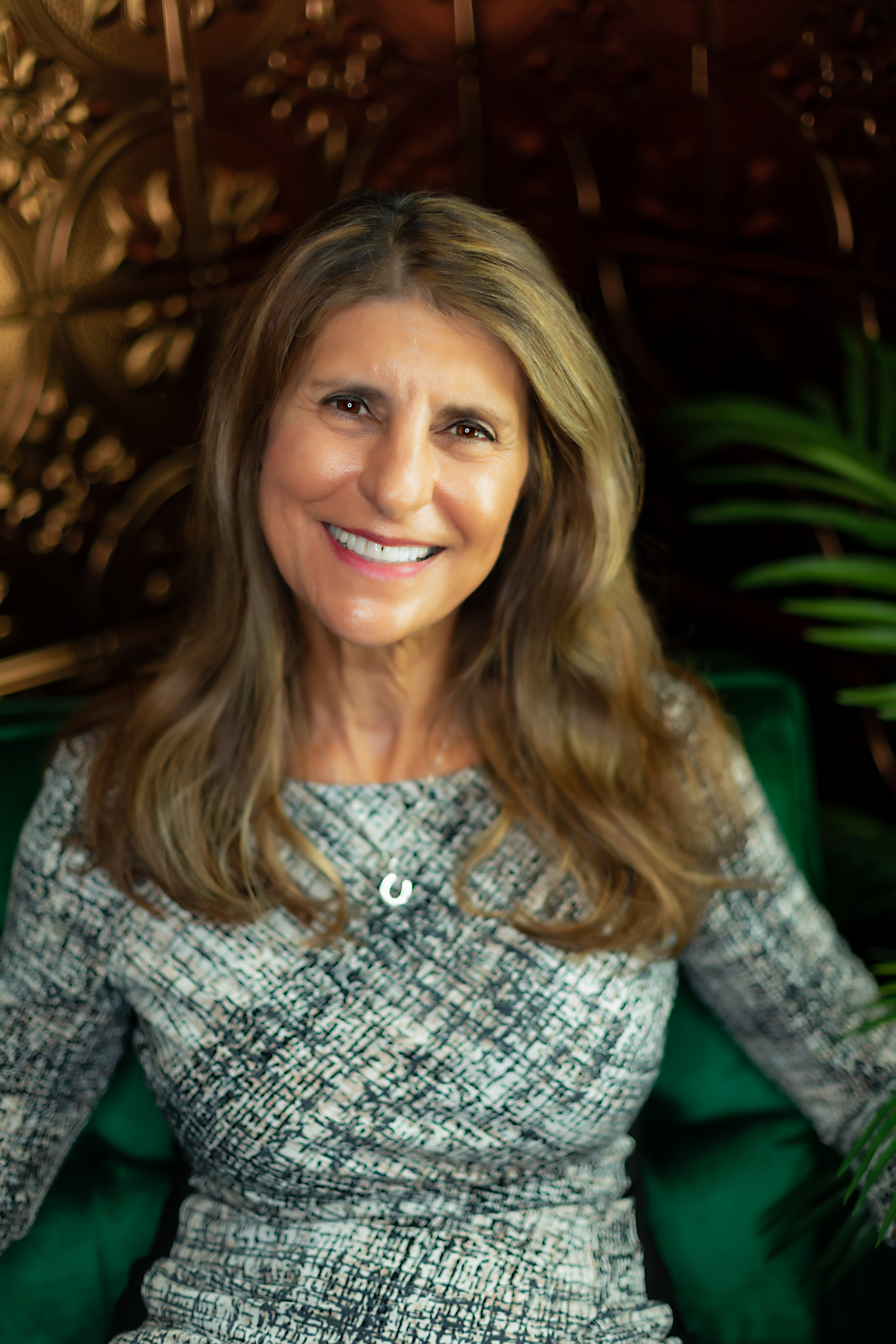 I Get It! 
I Was Where You Are Now.
I try everything from counseling (I was a counselor/therapist and educator before transitioning to coaching) to reading every self help book I can get my hands on.
Nothing Works! To be honest, I'm waiting for someone or something to come along to save me from mental bars I feel are up all around me.
Well guess what! No one comes and nothing happens...
I finally realize trying to find answers outside of myself doesn't work. With my experience, background, and expertise, I design my own PLAN of action moving me out of the past and feeling "stuck" to feeling empowered to create an amazing new life.
This is how my step by step process comes to be.
I've shared the process with others who now live their dream. Now, I want to share it with you.
There is no groveling around in the past. We are always moving forward.
You'll learn how to recover and heal from the inside out.
Discovering how to do this gives you power and confidence to face what is holding you back.
You are only one course away from rebuilding your new life on your own terms.
I have a Masters Degree in Human Development, Counseling and Family Studies. I am an author and inventor of board games published in the Creative Therapy Store. They are used by counselors/therapists to supplement their work with children.
I'm a blogger for Divorce Magazine.
I love to play tennis and a life-long learner of how the mind works and utilizing its power to achieve my goals. I have two grandchildren--Sydney and Amelia.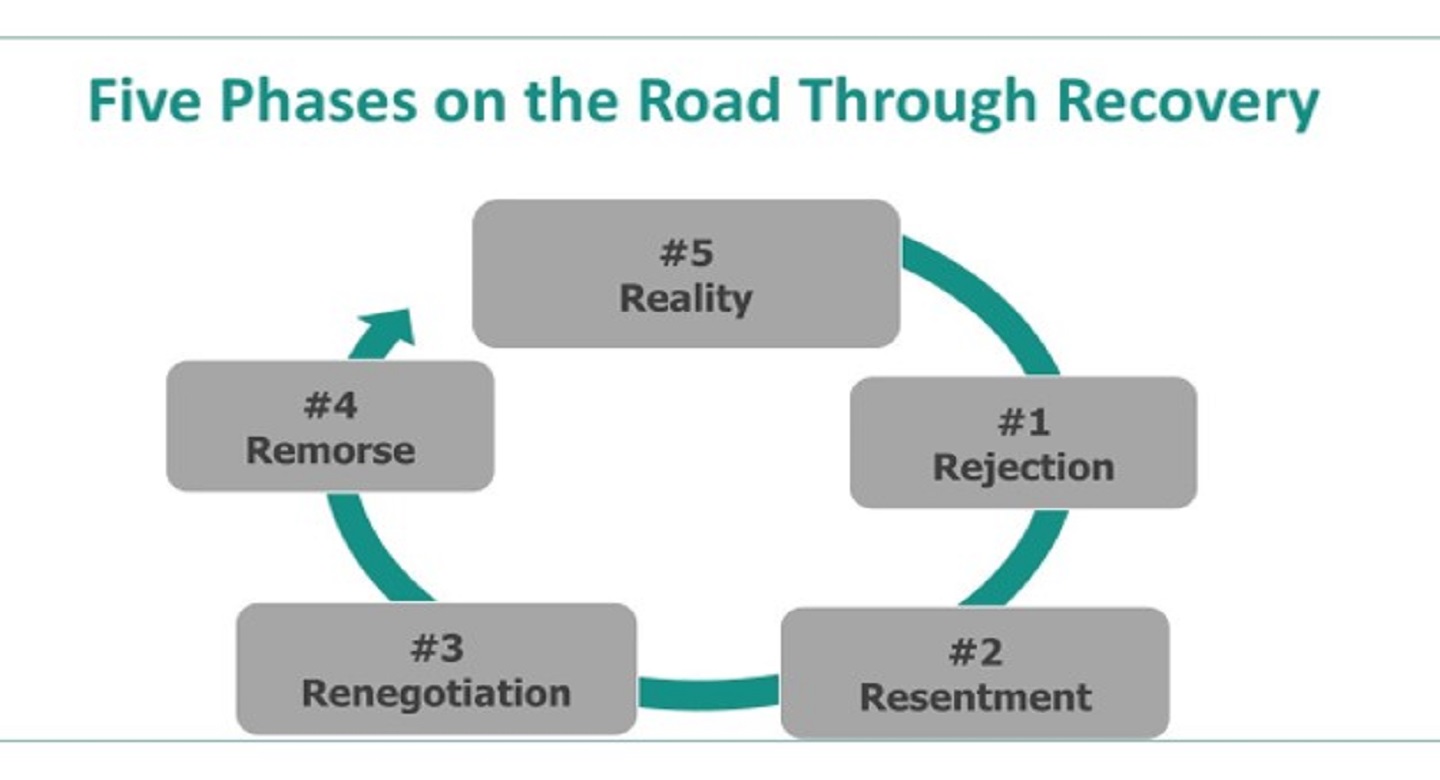 Where Are You In The Recovery Cycle?
I will teach you how to pinpoint exactly where you are on the Road so that you can become more aware of your thoughts, feelings, and actions, and how they are giving you the results you are now getting in your present life.
Once we have that information, we will discover what needs to be done to change your thinking about the results you are getting now in your life.
(WE ATTRACT WHAT WE FOCUS ON AND THINK ABOUT. WE WANT TO LEARN TO THINK ABOUT WHAT WE WANT FOR THE FUTURE AND NOT WHAT WE HAVE RIGHT NOW!)
By changing your thinking, you will overcome your limiting beliefs that are holding you back from rebuilding the life you deserve filled with joy and happiness.
Here Is How It Works.


Goal For Step One In The Process:
You will learn all about the Road Through Recovery which is comprised of five phases in the divorce recovery cycle.
Your Results:
You know the divorce recovery cycle, and what thoughts, feelings, and emotions identified within each of the phases on the Road Through Recovery. You start to have an idea of where you see yourself within it.


Goal For Step Two In The Process:
There are case study examples of women, just like us, who are stuck in each phase. You will see how each changes her mindset so that she sees the opportunity of how to overcome what is holding her back--more quickly.


Your Results:
Through coaching and self discovery, you know exactly where you have to start. You know which phase, more than others, gives you the "uncomfortable feeling". It is the "paradigm" or limiting belief, obstacle, or challenge where you are "stuck".


Goal For Step Three In the Process:
You will learn the value of a written goal plan, and how changing your perspective can help you choose the right action steps that will move you past the Road Through Recovery.


Your Results:
You know exactly how to write a targeted goal statement so that you are able to choose the right action steps to get your results much more quickly.


Goal For Step Four In The Process:
You will write a powerful goal statement and action steps to match so that you begin to rebuild your new life full of joy and happiness.


Your Results:
You design your goal plan step-by-step. You use the concept map to break down any action step that is challenging and needs smaller steps. You move past the Road Through Recovery.


You create the plan.
You take focused action.
You make your new life happen.
Masterclass For Deeper Learning About The Road Through Recovery
This 25 minute video explains how the process works, shares three secrets as to why it works, and showcases three examples of women who worked through the process and got results.
There are also four bonuses when signing up for coaching.
BELOW ARE SOME EXAMPLES OF THE POWER TOOLS YOU WILL BE WORKING WITH TO MOVE YOU FORWARD.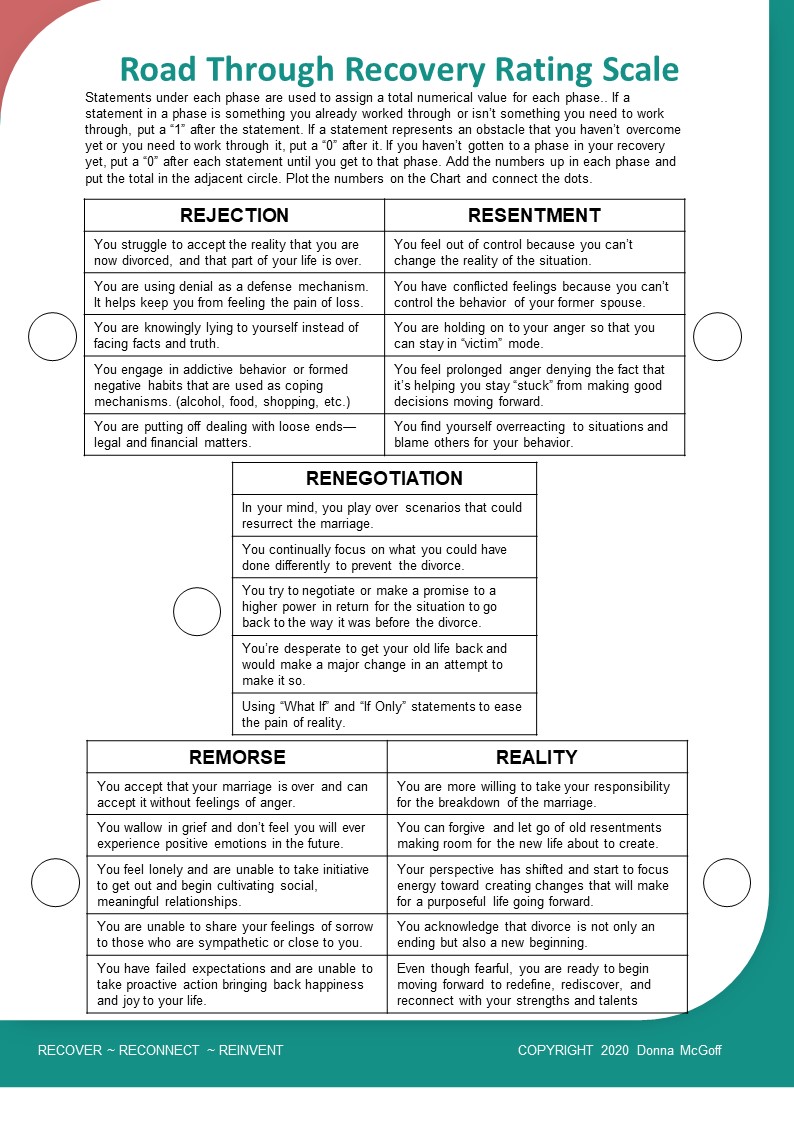 WE PINPOINT EXACTLY WHERE YOU ARE ON THE RECOVERY CYCLE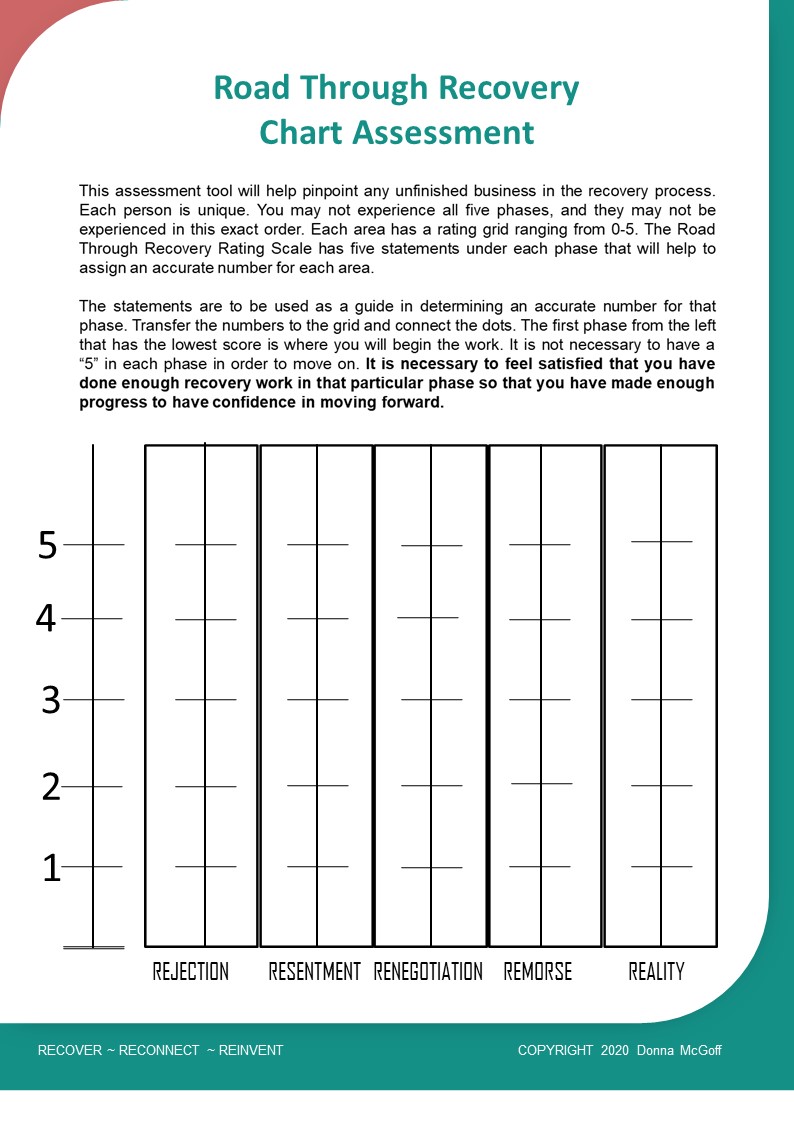 YOU PLOT IT ON THE CHART SO THAT YOU KNOW EXACTLY WHICH PHASE TO BEGIN THE WORK.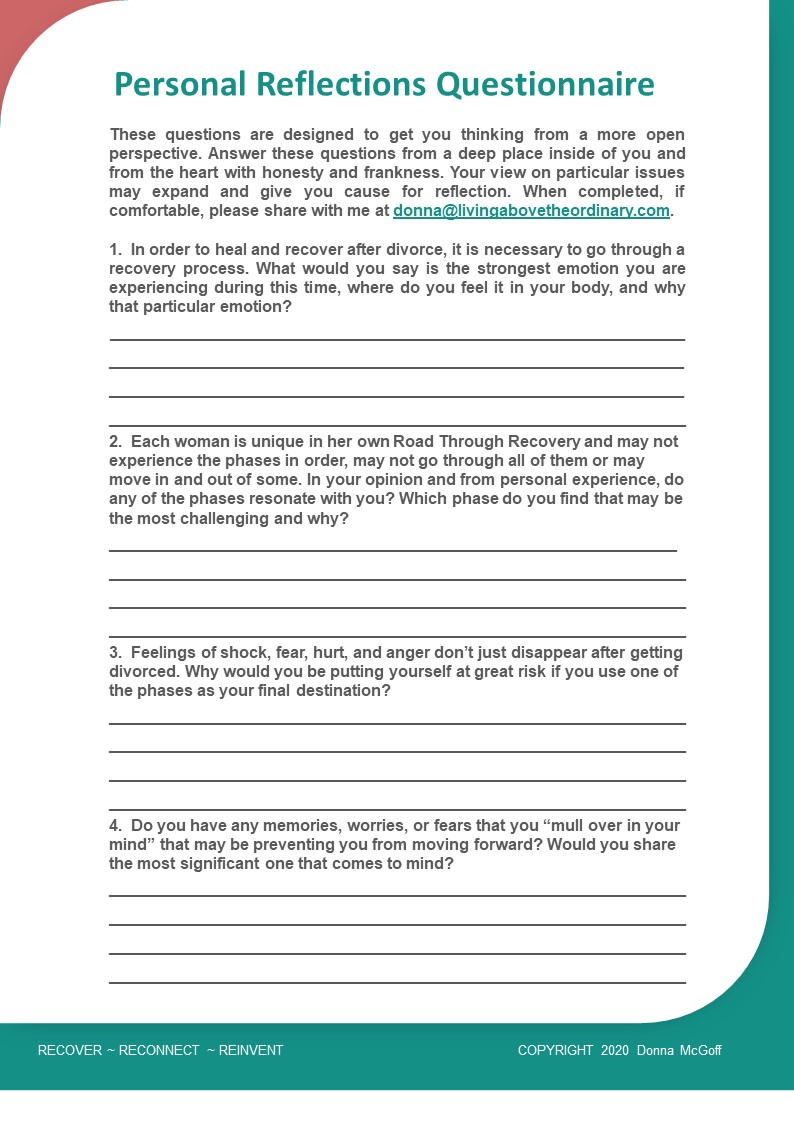 THESE REFLECTION QUESTIONS ARE DESIGNED TO HAVE YOU THINK DEEPLY AND BROADEN YOUR PERSPECTIVE.
Frequently Asked Questions


Where should I be in the divorce recovery process to get the most benefit from coaching?
You should have already transitioned through your divorce. You have made the decision to change your life and ready to do the work to make it so.
How do I schedule my coaching appointments?
Upon purchasing coaching, you'll receive further instructions on how to book a time for your appointments. You will have a coaching session once a week for
four weeks
.
How can I get in touch with you if I have more questions?
You can sign up for a
Complimentary Discovery Call
at your convenience by
clicking here
and schedule a date and time that is convenient. (20-30 minutes)You can also send an email to
[email protected]


Can I get a refund if I'm unhappy with my purchase?
If you are unsatisfied with your coaching, reach out and we will refund what you paid for the package minus the coaching you already received--
up to 10 days, no questions asked.